hi folks,
i recently went a-looking for slow-worms at an unusual site;
LOCATION; steep holm island, somerset, bristol channel
DATE; tues 10 aug 2010
CONDS; heavy rain all day but calm and you didnt need a jacket for WARMTH
DISCLAIMER; please bear in mind when viewing these pics that they were taken by a total photography novice in the pouring rain. have mercy!
NB when i booked the trip i was informed that although it was ok for me to flip refugia, i was not allowed to handle specimens.
obviously this meant that i had to be quick with the camera before they scooted.
it was a struggle for a beginner and it shows in the results. trying to hold lumps of concrete, keep rain off the lens, focus, aim etc was beyond my modest capabilities. but i had a go.
if i could have calmed the animals i couldve got better results. but id agreed not to so i stayed good to my word and got crap.
much later in the day the warden told me that since i knew a bit about herps it would have been ok for me to handle after all. too late. how annoying.
so theres a tip for you.
if you plan to visit tell the KAMT what you are in advance.
and i hope you have better weather and luck than i did!
you gotta admit, as islands go, this one looks pretty enticing.
disembarcation. the landing beach.
one of two ponds on SH. no amphibians on the island, no other reptiles or mammals bar muntjac. not even small mammals like voles. maybe a bat. no farm/domestic animals or birds either. no reptile tins put out and no aquatic plants that i saw other than duckweed (lemna minor).
im not running the place down though. it was very interesting and a bargain at ú25 for all day.
the island has been inhabited by neolithic man, the romans, pirates, smugglers, monks and more. an archaelogical dig is underway, there are victorian and ww2 buildings/guns and even caves and an ancient well opening in the future. amazing for such a small place.
a day there wasnt long enough. i spent all day looking for slowies but the time passed very quickly.
anyway, the pond;
victorian ammo store.
on the wall of the visitor room there is an article about the largest slow-worm recorded in the uk. it was found on SH. i took pix of the pix.
a pythonesque 20" long!
very blue on the upper torso isnt he?
i saw 7 slowies in total during my visit. including a fairly big one but nothing otherworldly unfortunately.
four i found myself and the last 3 were all together under the wardens "private" tin behind his cottage. he kindly showed me his "stash" when he learned of my interest. thanks chris.
interestingly, despite an abundance of natural stone and wooden refugia, all the ones i found were under pieces of concrete on the south facing slope within a few metres of each other. the warden told me that when workers moved a large piece of concrete a few weeks earlier, they uncovered 14 specimens.
heres my first find;
my second. hes just starting to get a few blue scales;
next there were two under the same piece;
there are a series of micro-habitats on the island. here is where the slowies i found were. dead alexanders (smyrnium olusatrum) and mallow (malva sylvestris) and thats about it here botanically.
down these 200 steps with NO handrail is a ww2 searchlight post. i walked down to it VERY carefully in the wet.
one of the commonest flora here and often found near the sea, ALEXANDERS. named after alex the great. bin here a while!
another common one on SH- STINKING IRIS (iris foetidissimma). shame not in flower.
one of my best finds of the day- HENBANE (hyoscamus niger). in the top ten most poisonous uk flora and fairly uncommon. esp away from the coast.
wild leek (allium ampeloprasum)
this is the plant the island is most famous for. for better or worse, it is the most successful colony of naturalised wild peony in the uk. blooms in may. originates in china i think.
this specimen was being protected from the deer by mesh.
hmmm.....
view across the top of steep holm. bramble (rubus fruiticosis agg.) dominates here.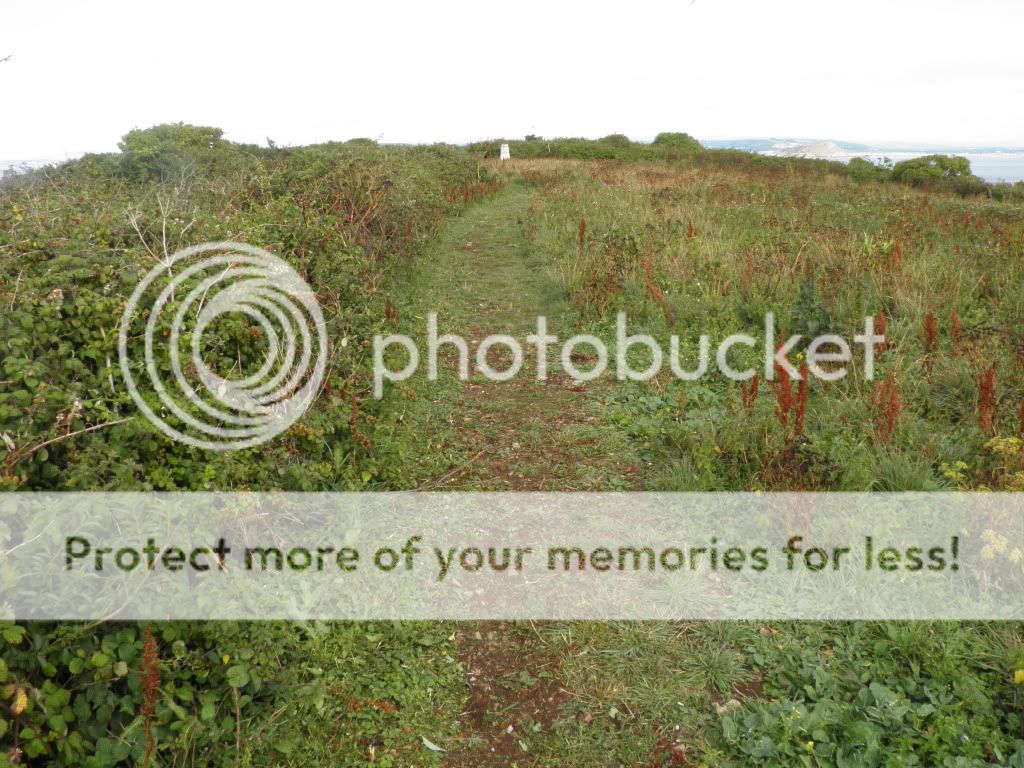 muntjac hideyhole;
this is the tramway leading up from the beach. you can still see one of the rails. it must have been hard work bringing cannons etc up there.
heres a wasp nest i spotted. unusually you can see the whole thing out in the open. the two commonest social wasps (the common and the german) generally hide their nests and so judging by my field guide, i think this may be dolichovespula saxonica. the conical nest seems quite id diagnostic. though correct me if you know better please. i dont know much about insects!
another relatively uncommon plant. hounds tongue (cynoglossum officinale);
view of the only wooded part of the island. sycamore dominates here;
how many of us herpers would it take to flip this cannon?
the view across the top of the island towards weston super mare;
the solitary white beam (sorbus aria) tree i found. little more than a sapling;
as i said earlier, the last 3 slowies i saw were all under a tin the warden showed me. it was on TOP of a large bushel of twigs. 2 foot off the ground. a RAISED refugium no less! the largest specimen of the day is here. i only had moments to snap before they took off. sorry!
weld or dyers rocket (resuda luteola);
sadly, dead or dying fledgling lesser black-backed gulls were commonplace when i visited;
bye bye STRANGE HOLM.
1 day with you wasnt enough.
ill be back next may when the peonies are blooming, slow-worms are "afoot" and hopefully its not peaceing down with reign.
i had a great day overall though.
many thanks to all the staff of the kenneth allsop memorial trust (esp joy and chris the warden) for being so helpful and informative.
thats all folks,
ben
APPENDIX;
UK NATIVE FLORA FOUND ON STEEP HOLM 10.8.2010
(i wont bother with the latin names.)
COMMON RAGWORT
FENNEL
PELLITORY-OF-THE-WALL
STINGING NETTLE
TEASEL
WILD LEEK
BURDOCK
STINKING IRIS
SEA BEET
BRAMBLE
DOGS MERCURY
GROUND IVY
MARJORAM
RED-VEINED DOCK
SHEPHERDS PURSE
COMMON SPEEDWELL
HEDGE MUSTARD
OIL SEED RAPE
WOOD SAGE
FAT HEN
TANSY
COMMON MALLOW
HOUNDS TONGUE
DUCKWEED
HENBANE
DARK MULLEIN
SPEAR THISTLE
PRICKLY SOWTHISTLE
ALEXANDERS (well its been here a LONG time)
TREES AND SHRUBS;
very few;
COMMON PRIVET
ELDER
SYCAMORE (not strictly native ok)
WHITE BEAM
GRASSES;
im a bit out of my depth here but i saw
COCKSFOOT
PERENNIAL RYE GRASS
BLACK BENT
and finally,
ALIEN FLORA (peonies aside);
ROSEMARY
BORAGE
LEMON BALM
BUDDLEJA
there were a couple of plants i failed to identify. (non-natives).